Explore The World of Dentistry Webinar
Posted by Maria Abramova on February 14, 2022, 3:00 PM EST
Join us for the best trip to the dentist you'll ever have -- promise!
On February 23, we will explore what it's like to practice dentistry and run your own business.
Join us for an insightful conversation with Dr. Daniel Vacendak, who both manages Vacendak Dentistry in Virginia and sees his own patients each week.

​
Virtual Internship! Explore the World of Dentistry
Wednesday, February 23 at 12:30 pm ET/9:30 am PT
*We will provide a sign language interpreter*
Duration: 45 minutes
Host: Danny Rubin, founder of Rubin
Special guest: Dr. Daniel Vacendak of Vacendak Dentristy -- he's the dentist and business owner.
​Claim your spots right now (already 300+ teachers and students signed up!) and then download the worksheet students can use during our webinar.
**RSVP and then forward the email to your students so they can register on their own, if you'd like.**
Three notes:
1. We will understand the education and training it takes to be a dentist, how to work with patients, manage the business and more!
2.Yes, we will provide a recording, but students gain the most value if they join live, given your class schedule.
3. PLUS! Everyone (educators and students) who attends live will receive a Rubin certificate of completion. 👇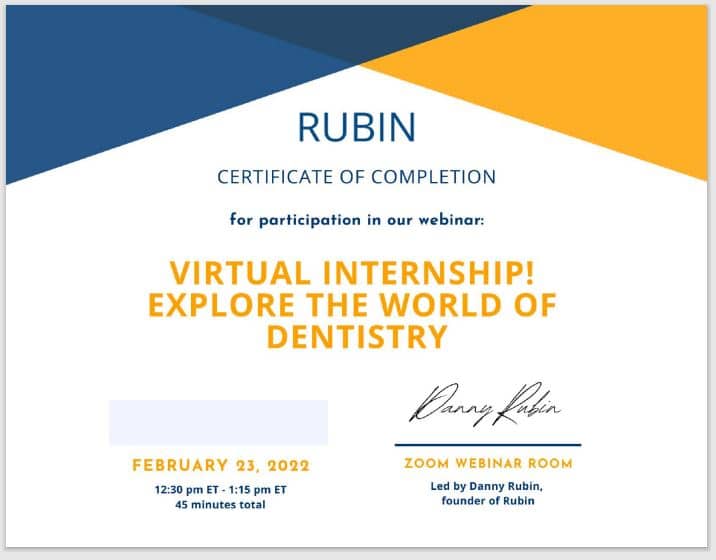 ​
​RSVP to the webinar today, and we'll see your class on Wednesday, February 23 at 12:30 pm ET/9:30 am PT.